Quick Links
The Doors - One Act Performances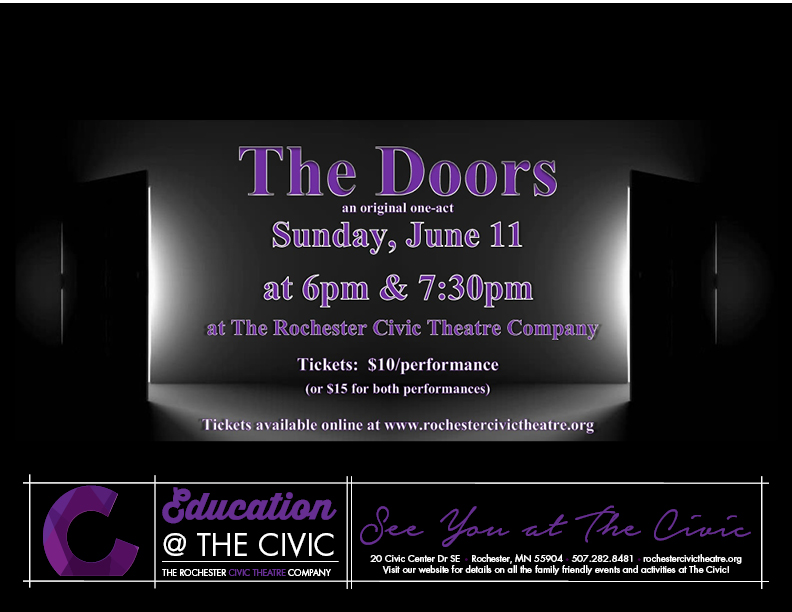 June 11th at 6pm and 7:30pm.
Synopsis: In an alternate world, people are split into two categories – the Reds and the Blues. Reds are intellectuals who focus on knowledge and the mind. Blues are laborers who focus on physical work and the body. Each group has its own door, but the rules that govern each side and the use of its door are not the same. The Doors is a story of equality, discrimination, and what happens when the rules are questioned.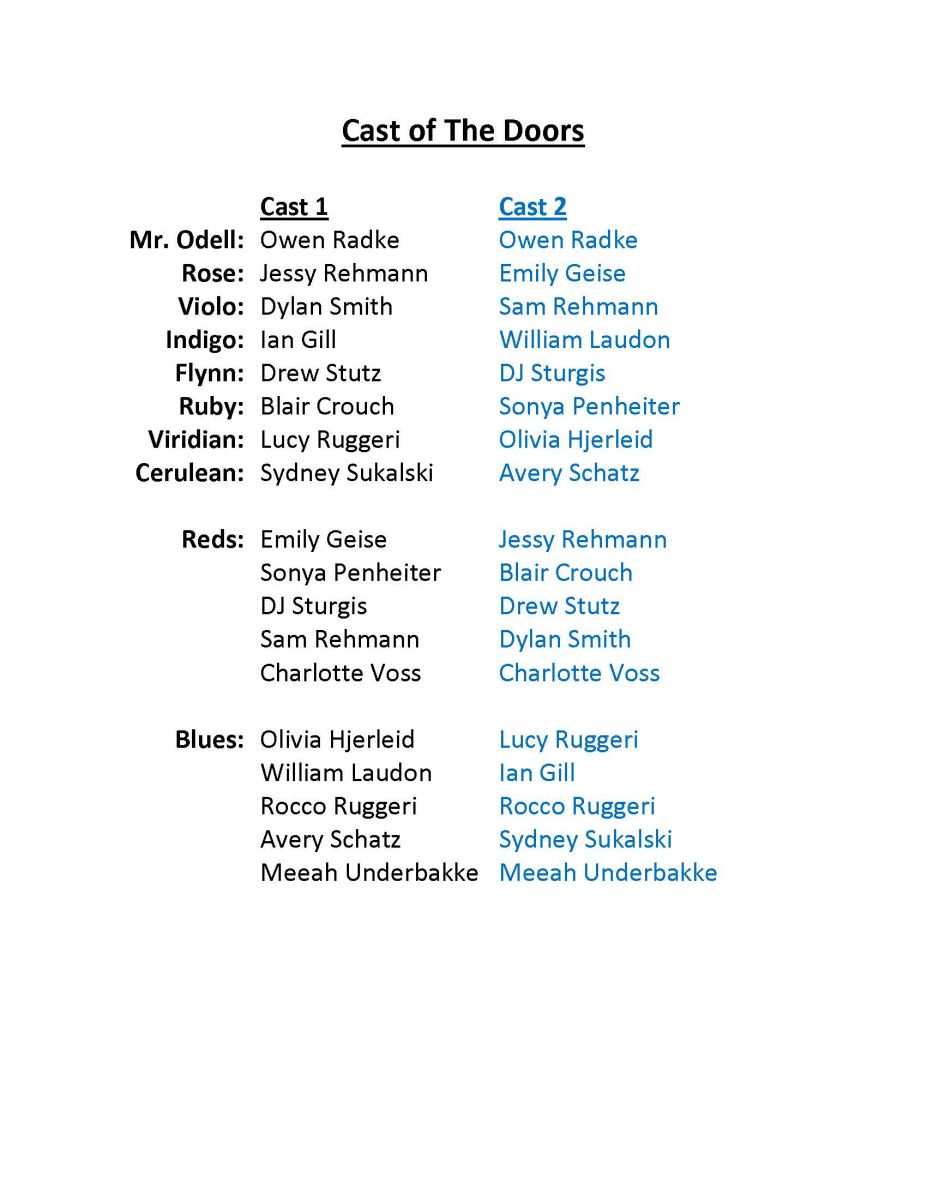 Otherwise Actors

Otherwise Actors is a performance troupe that provides teenagers and young adults with a creative theatrical outlet. Through teamwork and creative collaboration, students develop original theatrical works, presented in student-directed final showcase performances. Otherwise Actors members contribute to the theatre community through participation in fundraising events and volunteer work.
Ages: 13 and up
Membership Fee: $60 per term
Our Current Otherwise Actors:
Logan Ackerman
Ella Ashlin
Jacob Decker
Emily Geise
Jessy Rehmann
Sam Rehmann
Avery Schatz
Dylan Smith
Drew Stutz
Audrey Van Brunt
Destiny Whitehorn
Dré Withers
Rehearsals are from 4:00 to 6:00 pm
Upcoming OA Events:
Spring Term: January - April, 2017
Fundraiser: Play-in-a-Day, Feb. 10 & 11, 2017
Spring Showcase: Sunday, April 23, 2017, at 2:00 pm
Summer Term: May - August, 2017
Auditions: Wednesday, May 10 and Thursday, May 11, 2017, from 4:00 to 6:00 pm
Fundraiser: Musical Car Wash
Summer Showcase: Saturday, Aug. 19, 2017 at 7:00 pm
Inside Out Players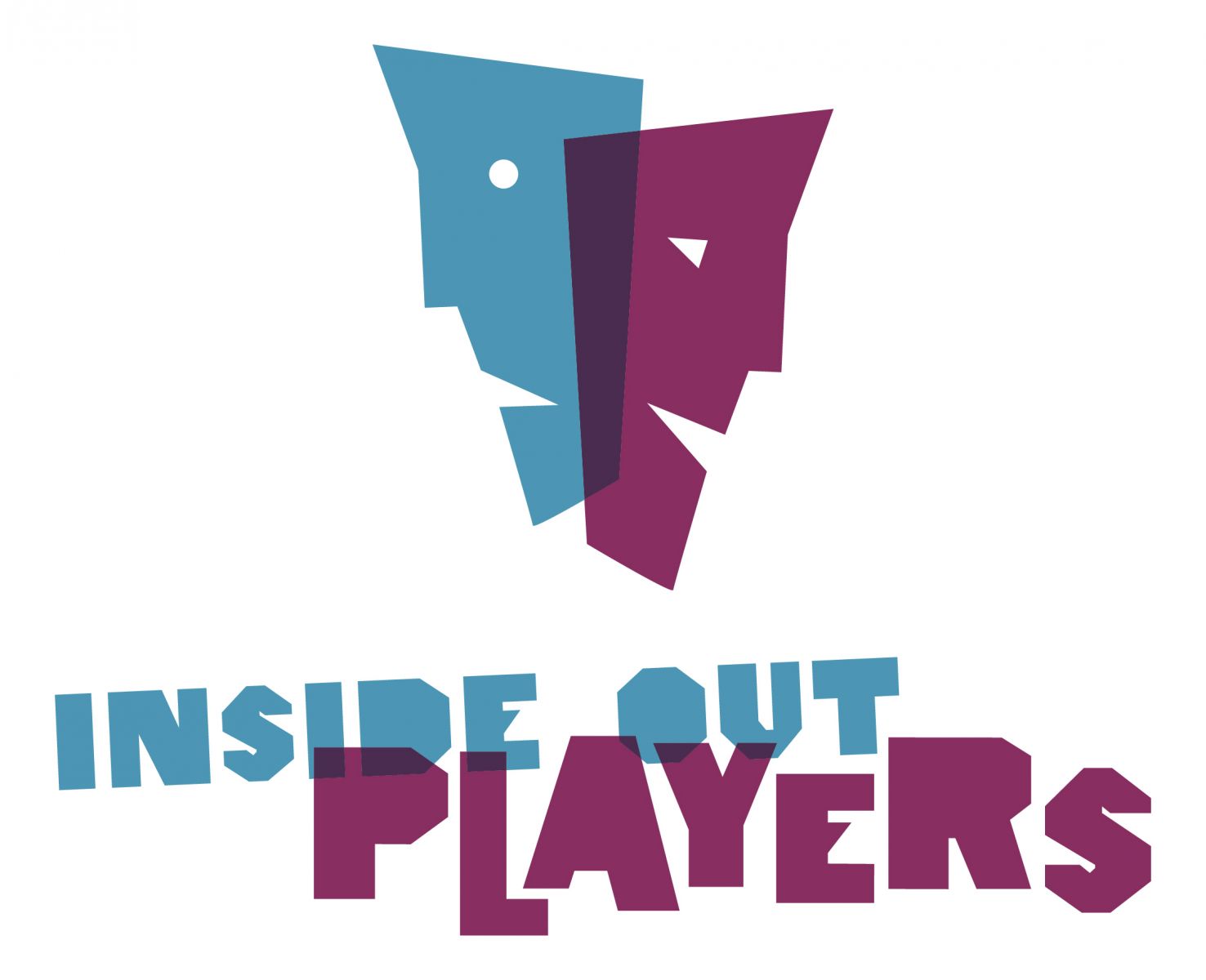 Inside Out Players is a youth performance troupe. Working together, through the use of improvisation and other creativity-inspiring techniques, this troupe develops a variety of performance pieces that will be featured in a final showcase full of fun, imagination, and talent.
Ages: 9 - 12
Membership Fee: $60 per term
Rehearsals: Tuesdays 4:00pm - 6:00pm
Our Current IOP Members:
Anika Berven
Julia Sanchez
Sophie Sanchez
Meeah Underbakke
Charlotte Voss
Piper Winn
Rehearsals are from 4:00 pm to 6:00 pm
Upcoming IOP Events:
Spring Term: January - April 2017
Spring Showcase: Saturday, April 22, 2017 at 7:00 pm